The Scientist steps onto the continent stage through research on salt-tolerant rice
Vietnam Journal of Education - That is Dr. Pham Thi Thu Ha - one of Vietnam's three female scientists in the list of 100 typical Asian scientists in 2020. 
The Asian Scientist Magazine honors three Vietnamese female scientists in the List of 100 typical Asian scientists named Assoc. Prof. Dr. Ho Thi Thanh Van (Ho Chi Minh City University of Natural Resources and Environment), Dr. Pham Thi Thu Ha (Ton Duc Thang University) and Dr. Tran Thi Hong Hanh (Vietnam Academy of Science and Technology). These are outstanding women who were also awarded the L'oreal- UNESCO for Women in Science Award in 2019. 
In particular, Dr. Pham Thi Thu Ha was honored in the field of Agriculture. She was noted for her research on developing salt-tolerant rice varieties through molecular marker selection and popularizing them in areas in the Mekong Delta affected by saline conditions. 
She is currently the Deputy Director of Genomic Research Institute and Seed of Ton Duc Thang University.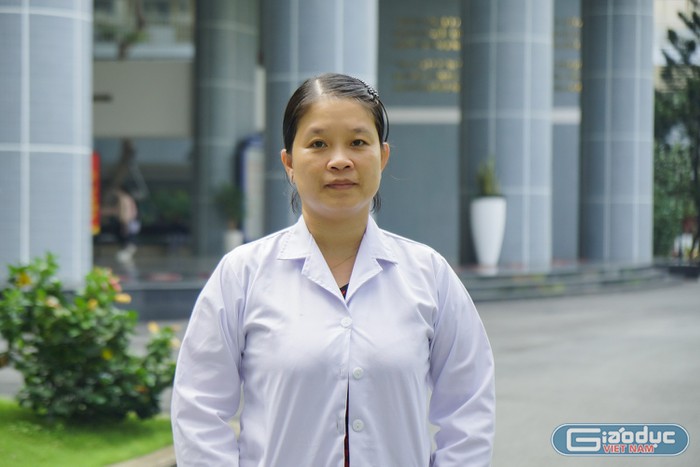 A reporter of the Vietnam Journal of Education had an interview with Dr. Pham Thi Thu Ha. 
Reporter: It is known that you are one of the 3 Vietnamese female scientists in the list of 100 typical Asian scientists, so when receiving this prestigious award, how did you feel? 
Dr. Ha: I went to work as usual, but then the Dean asked me whether I had read any news. 
I said that I didn't know any news. 
She forwarded me a message, but I said that the message might be old. 
Then I went online and searched the Asian Scientist website to read. Suddenly, I saw my name. I really didn't believe what I have just read. This award is a surprise that I completely did not expect. I thought I was lucky!
This event has fueled all my hardships and difficulties as well as maintained my passion for research. 
The great Indian poet Tagore once said: "We are grateful for the lamp that gives us light. We must also be grateful to the lampstand that silently stands in the dark to bring the lamp to shine everywhere". What do you think about this? 
This is always true. In a lifetime, from being born to passing away, no one can walk alone. We cannot grow and mature without a family. 
We ourselves cannot acquire knowledge without the teachers' instructions, as the phrase "No guide, no realization". 
Can Tho University is the starting place for my basic knowledge. Behind me are a traditional agricultural family and a sacrificial mother who can't wait for her children's success. 
Accompanying me are not only two leading professors but also two idols in my heart. They have helped me keep my passion. 
It is also impossible not to mention the Mekong Delta Rice Institute, where I started my research experience and where I have worked for more than 10 years in research. 
Following the renovation stages, Hiroshima, Japan, where I chose to study and improve my level, is a country with the ideal education that many people have dreamed of. In this country, I was trained in the working spirit.
It is also important to express my gratitude to the support of the school and the guidance of my Advisor, which have created the best conditions for students like me to be able to take care of children and complete research at the same time. 
The sharing and encouragement of Vietnamese students overseas; and the silent sacrifice of my little daughter, who was just 3 years old but had to follow me to a foreign land helped me to change my values. 
Ton Duc Thang University where I chose to work, to assert and to create products and my value is also the "lampstand". Right here, I have learned the quote of the President: "Keep going, you will come. Keep knocking, the door will be opened!".
Not silently, but truly understanding the value of female scientists, L'Oreal Unesco For Women in Science Fund has existed and provided motivation to help scientists maintain their belief and passion in research. 
Besides, I can carry out scientific research projects thanks to the cooperation and assistance of all members of the Mekong Delta High-tech Agricultural Research Institute (HATRI). 
Every journey I go, I cannot forget those direct and indirect impacts, helping me to have luck, faith, passion and endless effort. 
Reporter: Can you share your views on the difficulties in promoting the development of current scientific research projects? How has Ton Duc Thang University - the place where you are working - helped you overcome those difficulties? 
Dr. Ha: There are many difficulties in promoting scientific development in general, especially agricultural science. While the demand for new seed sources is very high, in our own country, the research, breeding, and selection of seeds have been very limited, so the production requirements of the agriculture field in response to climate change have not yet been met.
For many years, creating conditions for seed production research has not been given adequate attention. Funding only focuses on paying salaries, with very little investment in research and a lack of technical and technological investment.
Therefore, it is essential for enterprises to invest in the field of breeding and producing plant varieties, especially science and technology enterprises. 
Currently, Vietnam is fully qualified to create crop varieties with high quality; but it is important to focus on human resources, mechanisms and appropriate methods. 
A few people may say that was the first time they had heard that Ton Duc Thang University had conducted research on agricultural varieties such as rice. 
This is not surprising, as I did when I first knew the name Ton Duc Thang University in 2018, in which I got my doctorate in Japan and returned to Vietnam. My family advised me to choose a school to start my career. 
I was fortunate to meet with the President in person. For the first time, I heard a person telling me about "the ambition to build an Agricultural Seed Bank for Vietnam"; about the issue that "this country has 4,000 years specializing agriculture but has never had a good seed bank, while Taiwan and the Philippines have had huge agricultural seed banks despite their severe natural conditions"; 
And "we have still chosen to buy seeds for the production and continue to depend on seeds abroad". 
That is the strategy, the vision, and the passion of a person who truly deserves to be the university leader. 
When I heard his expectation that Ton Duc Thang University must contribute to building an Agricultural Seed Bank for Vietnam and needs to set up a research center for plant seeds, I was particularly impressed and convinced. 
And this leader recruited and assigned a young, newly educated researcher the task of starting a research direction that many people have never heard before. 
Three months later, the project was completed and the Genomic Research Institute and Seed (GRIS) was established. This is like my second brainchild. 
I also want to put all of my faith and strength to accompany this leader to successfully build a modern and international-worthy agricultural research center as his determination in building Ton Duc Thang University into an excellent university in the TOP 200 of the world. 
The Genomic Research Institute and Seed is developing according to the University's annual quality goals. 
But up to now, the progress of investment, funding, construction of facilities and equipment have not been implemented as expected due to the University's financial autonomy as well as having to worry at the same time thousands of big and small things, including backward mechanisms. It was the biggest difficulty that both leaders and I had to face. However, I'm not discouraged, but still have to focus on research in difficult circumstances both in terms of manpower and funding. 
Through passion, effort, patience, determination, and sacrifice in building and developing products, GRIS (or my brainchild) of Ton Duc Thang University, for the first time, was internationally known at the Conference on Rice Blast Fungus (Magnaporthe Grisea) in China in May 2019.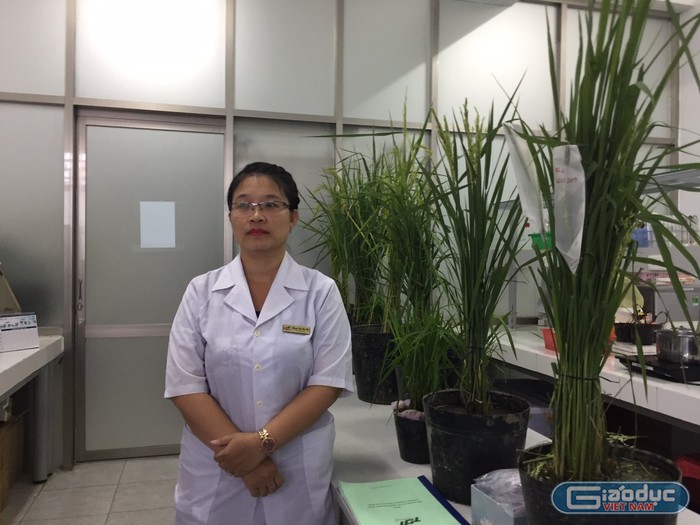 In 2019, GRIS was one more time known throughout the country through the L'Oreal Unesco For Women in Science award. This is the support that helped me have a funding source to not interrupt research. 
The results of my research on "Screening Salt-tolerance Gene of Rice Varieties by Molecular Marker" have been published in an international journal and I was invited to report in the International Conference on Agriculture in October 2020 sponsored by Spain. 
Since then to the day of being recognized among 100 Asian scientists has been a continuous effort in addition to direct and indirect contributions from HATRI Research Institute, L'Oreal Unesco For Women in Science and Ton Duc Thang University. 
These results are faith, dedication, and sacrifice. "Keep going, you will come." 
Reporter: From your experience in research, what is your message to young people when doing research? 
Dr. Ha: Research must be taken with passion, effort, patience, endurance, and even sacrifice. When you have this, you will be successful. 
Reporter: Currently, there are still many misunderstandings about science that it can be "bought – sold". According to you, what is the underlying cause? Through reality, how do you evaluate the scientific competence of the school you are working at? 
Dr. Ha: Products of science that can be bought and sold (for example, rice varieties); but science in the creative sense is not the so-called buying-selling. 
In essence, science is the enlightenment, innovation, creating new perceptions, concepts, information and results to serve people. The theory is not bought or sold, but the product applied from theory is possible. 
In the academic environment, science always needs the best dedication and sacrifice (time, health, family, etc.) of scientists; and this cannot be exchanged by money. 
Vietnam in general and Ton Duc Thang University in particular are fully qualified and capable of creating scientific values from small to very big. 
If the mechanisms that have helped my University grow rapidly and strongly over the past 10 years are maintained and expanded, I fully believe that my University will have the same scientific and educational achievements as leading universities in Japan and the USA in the next one or two decades. 
Reporter: Sincerely, thank you.