TDTU - 03/01/2022 - 5:00pm
The year 2021 has just ended with memorable changes. Let's look back at the typical activities of lecturers and students of Ton Duc Thang University during the past year.
1. TDTU successfully organized 3 international scientific conferences
In 2021, TDTU had coordinated with partner universities to successfully organize 3 international conferences. In the context of the complicated development of the COVID-19 pandemic, the successful organization of conferences with the online participation of many scholars around the world, and the achievement of the set goals, are the great effort of the whole university in scientific research and internationalization.
Organized international conferences include:
The 1st International Conference on Advanced Smart Materials and Structures (ASMaS 2021) taking place from 3 to 5 November 2021.
The 3rd International Conference on Environmental Technology and Innovations (ICETI 2021) taking place from 25 to 27 December, 2021.
The 2nd International Conference on Innovations in the Social Sciences & Humanities (ISSH 2021) taking place from 17 to 18 December, 2021.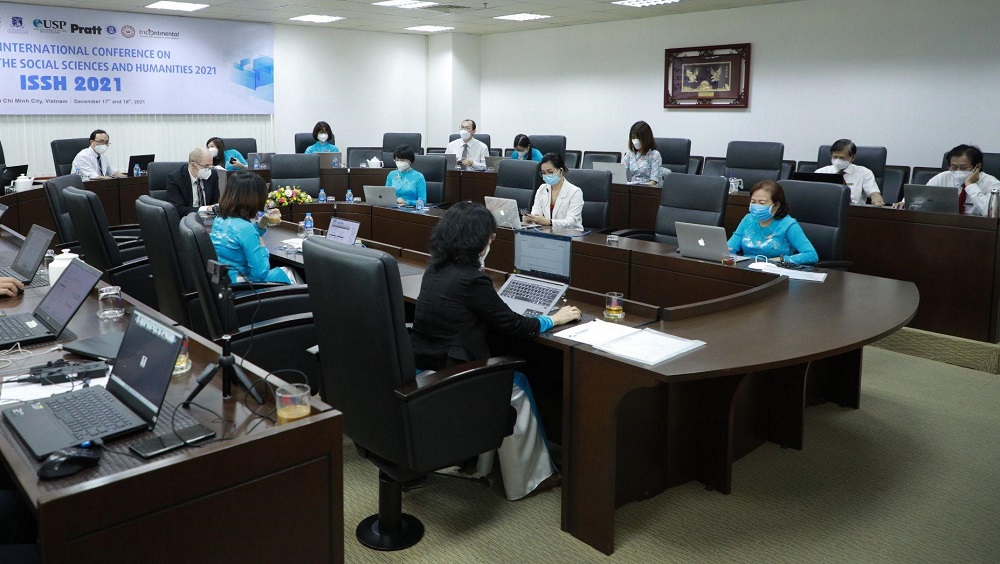 2. Eight more undergraduate programs certified by international accreditation organizations
TDTU has gained 8 more accreditation certificates from prestigious international accreditation organizations for 8 undergraduate programs including 4 programs certified by AUN-QA, and 4 programs certified by FIBAA.
Up to now, TDTU has 12 undergraduate programs certified by international organizations, in addition, there are 3 other programs being assessed according to AUN-QA standards.
Undergraduate programs certified in 2021 include: Applied Mathematics, Accounting, Biotechnology, English Language, Labor Relations, Urban and Regional Planning, Sociology, Vietnamese Studies - majoring in Tourism and Tourism Management.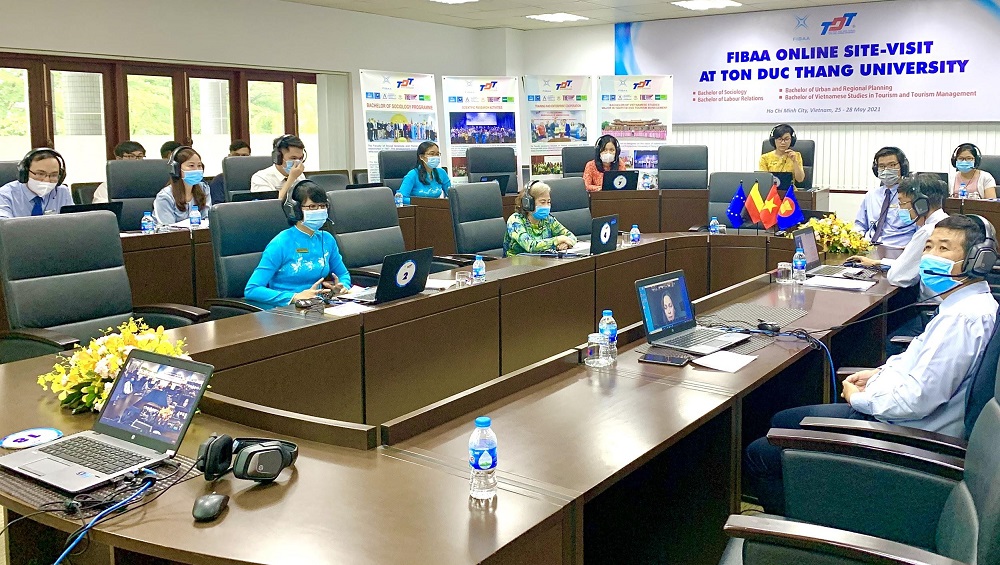 3. TDTU entered the Top 500 best universities in the world according to THE ranking system
2021 was the year TDTU had achieved outstanding results in university rankings. The THE World University Rankings ranked TDTU among the Top 500 best universities in the world. This was the first time TDTU entered this ranking. Becoming a university in the Top 500 best universities in the world is one of the objectives in the development orientation of TDTU.
Besides the THE World University Rankings ranking system, many other international rankings have also ranked TDTU in high positions:
ARWU Ranking: ranked TDTU 601-700 in the world
QS Asia University Rankings: ranked TDTU 142nd in Asia
UI GreenMetric Ranking: ranked TDTU 122nd in the world for sustainable development
US News & World Report Rankings: ranked TDTU 387th in the world
THE Impact Rankings: ranked TDTU 401-600 in the world in terms of influence on global sustainable development
URAP Ranking: ranked TDTU 427th in the world.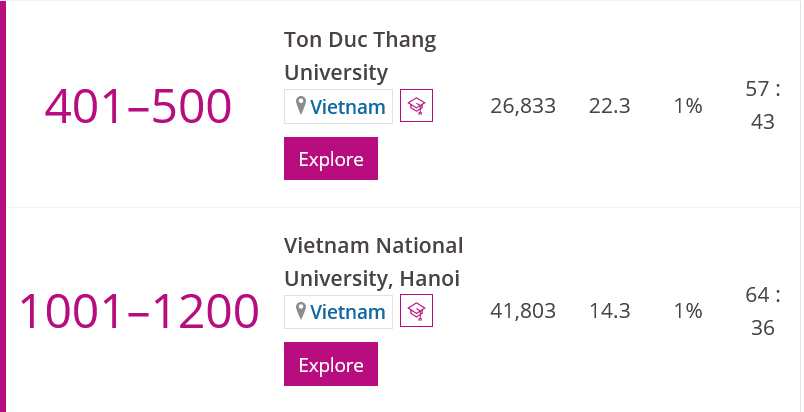 4. Enterprise cooperation and community relations
In 2021, TDTU had signed MOUs with more than 80 new enterprises and professional organizations. Some typical partners are: Association of Certified Public Accountants of Australia (CPA Australia), An Khang pharmacy chain under Mobile World Joint Stock Company, Long Chau pharmacy system under FPT Corporation, Ho Chi Minh City Development Joint Stock Commercial Bank (HDBank), …
The expansion of the friendly businesses network is a way for TDTU to link between training, production and business to facilitate internships and apprenticeships for students and expand job opportunities for graduates.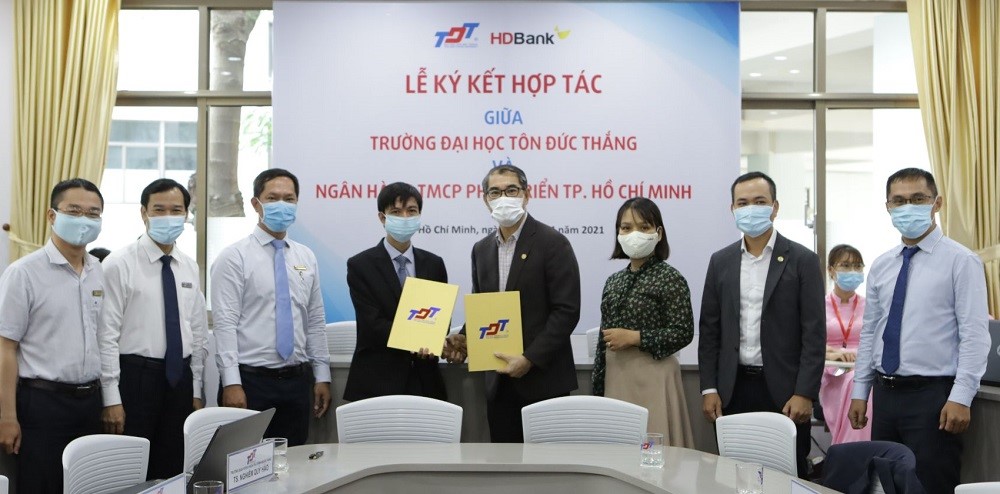 5. Maintaining international cooperation activities in the new normal
In the context of the pandemic affecting most countries in the world, the university's international cooperation activities have flexibly changed to adapt to the new situation. Some typical activities:
TDTU's Architecture Faculty had cooperated with the Institute of Smart City Management - University of Economics Ho Chi Minh City to organize the 4th International Workshop Week & International Design Studio (Parallel Design Studio) with Hasselt University (Belgium) with the participation of lecturers and students from many countries such as Belgium, Korea, Myanmar, Thailand, and Vietnam.
Faculty of Business Administration successfully organized an academic and cultural exchange program with Sunway University (Malaysia) with the participation of 40 students from both sides.
Bilateral working sessions between Ton Duc Thang University and Canadian universities conducted within the framework of Universities Canada's Digital mission to Vietnam with the participation of 22 leading Canadian universities have enhanced understanding and opened new opportunities for cooperation between universities of the two countries.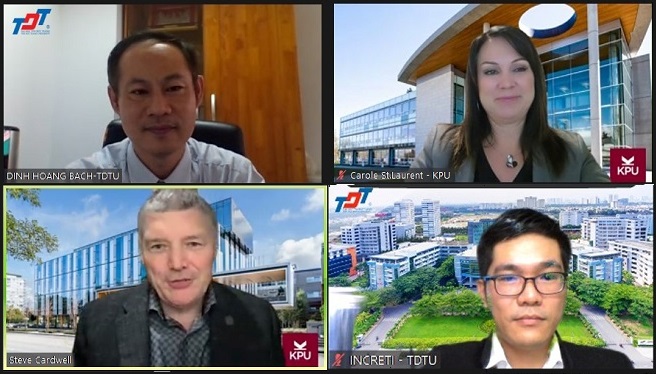 6. TDTU joining hands with the society to prevent COVID-19 pandemic
Implementing the policy of the city's leaders, TDTU handed over 2 dormitory buildings I and H to serve as medical isolation areas.
In addition, TDTU mobilizes resources to support students to overcome difficulties with a total budget of 30 billion VND. Besides, lecturers, staff and partner enterprises had directly supported boarding students and students affected by the pandemic with a total amount of more than 300 million VND and a lot of necessities.
TDTU also coordinated with the People's Committee of District 7 and Tan Phong Ward to organize vaccinations against COVID-19 for more than 300 boarding students.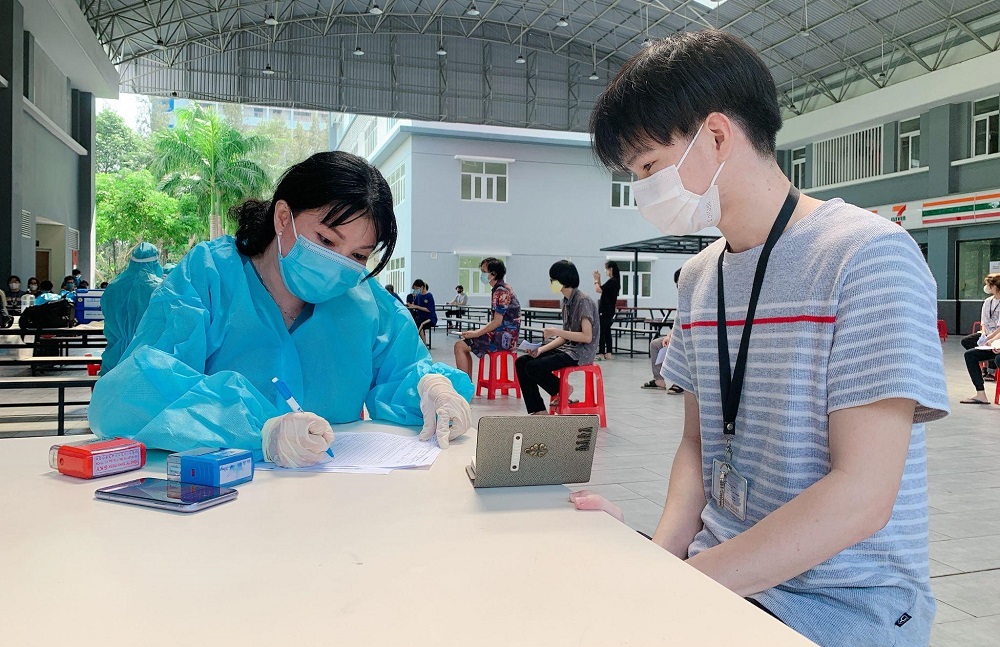 7. Organizing exciting online events
In the situation of being unable to gather, the university still organized online annual activities such as: Talk with students, Student orientation week, Meeting with students of the intake 25, Opening ceremony of the academic year 2021-2022, Vietnamese Teachers' Day on November 20,... attracting thousands of students and lecturers to attend.
Thematic activities for students were organized by the faculties in appropriate ways in order to equip students with practical knowledge about social characteristics and develop skills such as: Global citizenship: The journey to breaking the cocoon in a multinational environment, Starting a job or starting a business? Adversity is to overcome, Conquer employers - Break through in a new normal,... and many other talk shows attracting thousands of participants.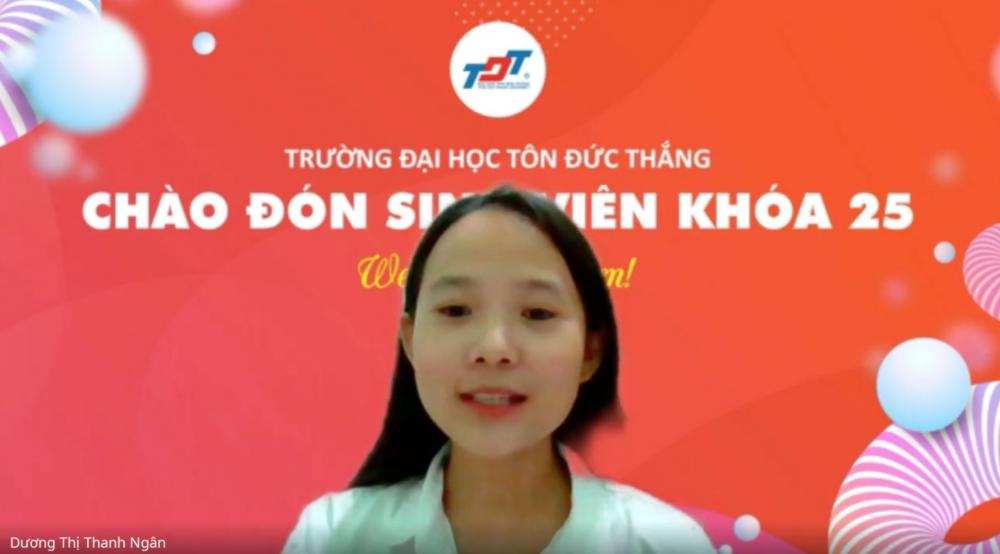 8. Students' activities to adapt to new normal
In April 2021, the final round of "TDTU Student Beauty Contest 2021: The Beauty of Diffusion" was the only cultural-artistic activity of the year which was organized directly in Hall 2A. The program had selected talented faces to represent TDTU students.
After this program, student activities continued to be organized online. In addition to cultural and artistic activities, academic activities such as: Exhibition of graduation projects of the Faculty of Electrical and Electronics Engineering, Traditional Festival of Architecture, Stock Investment Contest 2021, Scientific research conference for students of the Faculty of Social Sciences and Humanities, ... and many other useful activities were also organized for students.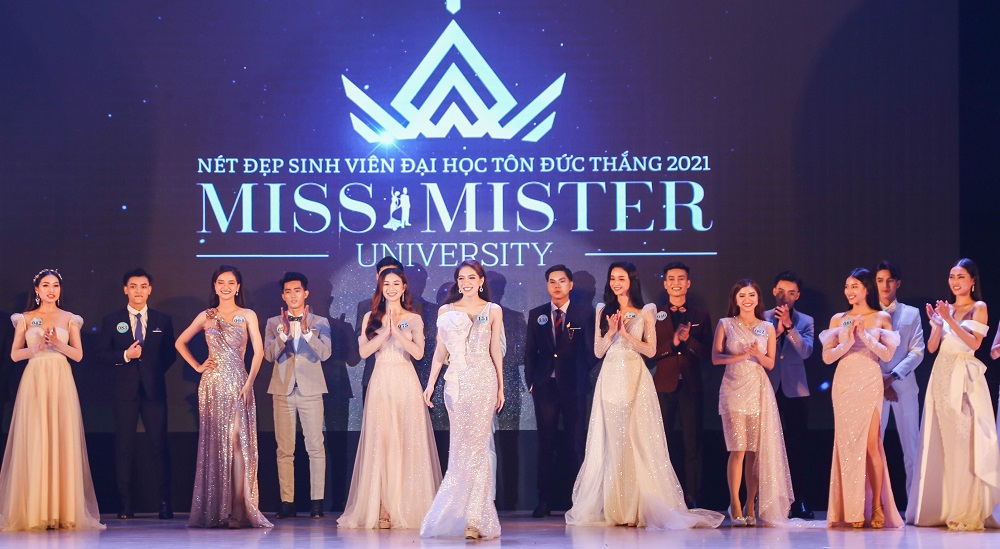 9. TDTU students won many high prizes at the Euréka Prize 2021
On December 18, 2021, the closing ceremony of the 23rd Euréka - Scientific Research Student Award was organized at the Youth Cultural House of Ho Chi Minh City (HCMC). Students of Ton Duc Thang University excellently won many awards: 1 first prize, 1 second prize and 2 consolation prizes.
The First Prize in the field of Social Sciences and Humanities was awarded to the student group of Nguyen Quynh Anh, Ho Dieu Lan and Duong Thien Tam, students of the Faculty of Social Sciences and Humanities.
The Second prize in the field of Chemical and pharmaceutical technology was awarded to the student group of Pham Trung Duc, Huynh Le Nhi Linh, Chung Bao Ngan, students of the Faculty of Applied Sciences.
The Consolation Prize in the field of Agriculture, Forestry and Fisheries was awarded to the student group of Ly Cam Tu and Le Quynh Anh, students of Faculty of Applied Sciences.
The Consolation Prize in the field of Natural Resources – Environment was awarded to the student group of Le Trong Nghia, Phan Thi My Linh, To Thi Ngoc Nhu and Nguyen Minh Hien, students of the Faculty of Applied Sciences.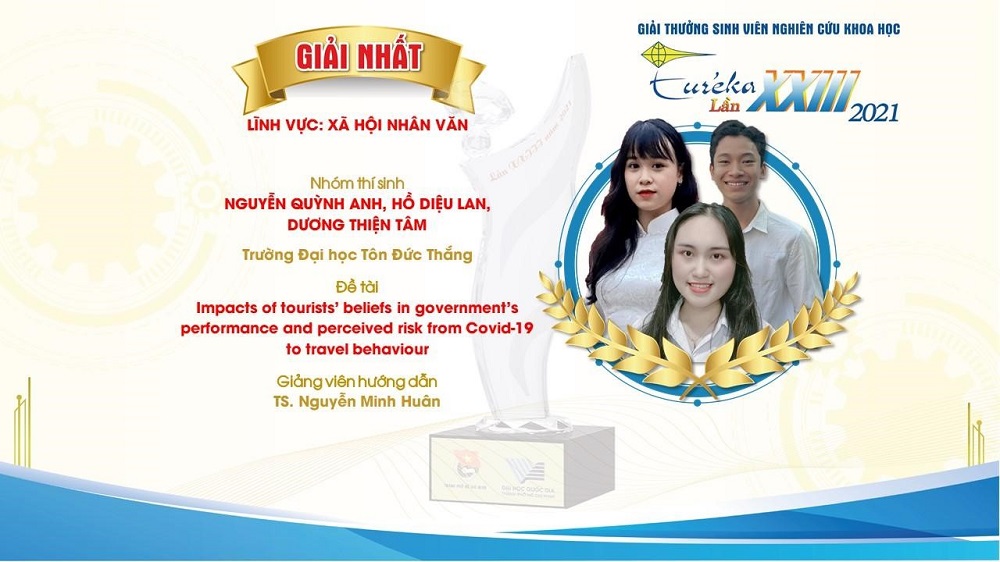 Over a special year of 2021, with the spirit of overcoming difficulties, TDTU lecturers and students have kept their faith and created a new atmosphere to be ready for an energetic year of 2022.
Please watch the following video: