TDTU - 23/12/2022 - 11:02am
The 311th external assessment of the ASEAN University Network-Quality Assurance (AUN-QA) at Ton Duc Thang University (TDTU) ended on the morning of December 22, 2022. TDTU's 4 undergraduate programmes, including Pharmacy, Chemical Engineering, Interior Design and Environmental Engineering Technology, have completed the assessment programme of AUN-QA after 3 working days.
The AUN-QA assessors reported the results of the assessment, in which they highly appreciated TDTU's modern facilities, the prestige of TDTU to employers, and the educational programmes that were synchronously built towards the international orientation and the ability to communicate well in English of TDTU students and alumni.
Some specific comments include: (1) The training programme ensures the "student-centered" principle and periodically updates changes and requests from stakeholders; (2) The quality of lecturers is good, and the support team is dynamic and always ready to support students in a timely and effective manner; (3) Students are well equipped with international-standard soft skills, informatics and good English communication skills; (4) Teaching conditions are always guaranteed and well maintained, a variety of extracurricular activities and internships at enterprises help students gain confidence and bravery, and quickly integrate into the enterprise environment and culture right after graduation; and (5) 90% of graduates have jobs immediately and meet the requirements of enterprises.
In addition, the AUN-QA assessors also pointed out some points to help the University in the coming time improve its training programmes better, be updated according to the needs of society, contributing to the development of TDTU towards the world elite research university.
On behalf of AUN-QA and the assessment team, Prof. Dr. Yahaya Md. Sam - Head of the AUN-QA assessment team - gave a speech to thank the University's leaders, lecturers, staff and students, especially the 4 programmes participating in this assessment. He hoped that the comments and assessments of AUN-QA experts will contribute to helping the University and 4 programmes implement better teaching and learning activities to bring higher value to students.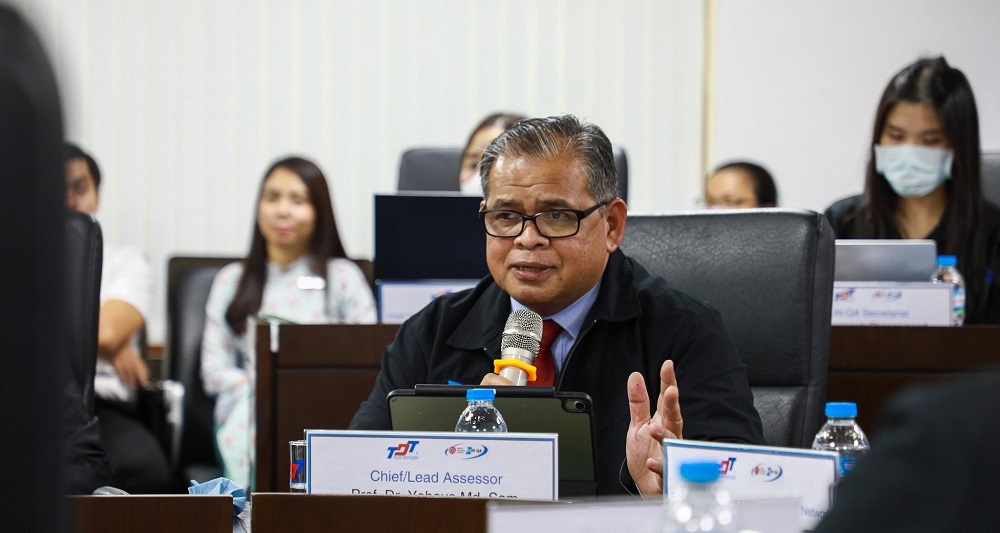 Dr. Tran Trong Dao - President of TDTU thanked the AUN-QA assessors, the AUN-QA Committee and Secretariat for their hard work during the past time to directly assess the 4 programmes. The comments and suggestions of the assessment team will be the basis for the University, faculties and departments to properly recognize the strengths and weaknesses to improve the quality of the training programme.