04 programmes meeting the FIBAA accreditation standards
In November 2021, the Foundation for International Business Administration Accreditation (FIBAA) officially recognized and granted the Quality Seal for 4 undergraduate curricula of Ton Duc Thang University (TDTU). The accreditation period is 5 years (2021-2026).
The curricula accredited and certified by FIBAA include Labor Relations, Urban and Regional Planning, Sociology, Vietnamese Studies - Major in Tourism and Tourism Management.
To get this result, from the academic year 2019-2020, TDTU has registered for accreditation according to FIBAA standards and made self-assessment reports for the 4 curricula mentioned above. In May 2021, FIBAA experts conducted online accreditation for 3 consecutive days.
FIBAA is the quality assurance organization of the Swiss Government, a non-profit organization established to promote quality and transparency in education and science by awarding a "Quality seal" to the curricula accredited and recognized as meeting the standards. The set of FIBAA standards is used for curricula in the fields of Social Sciences and Humanities, Law, Management and Economics.
Due to the strictness and high requirements for the criteria, the FIBAA accreditation certificate is one of the most prestigious and widely recognized in Europe and around the world. Graduates of the accredited programme by FIBAA will have favorable conditions to find jobs and further study in European countries and many other countries.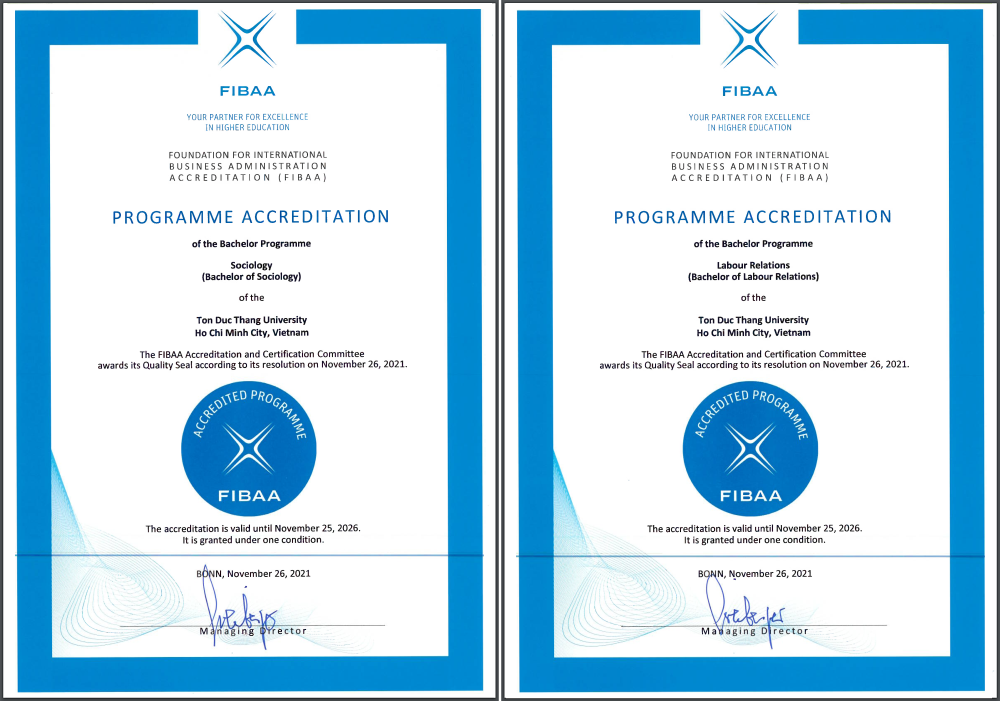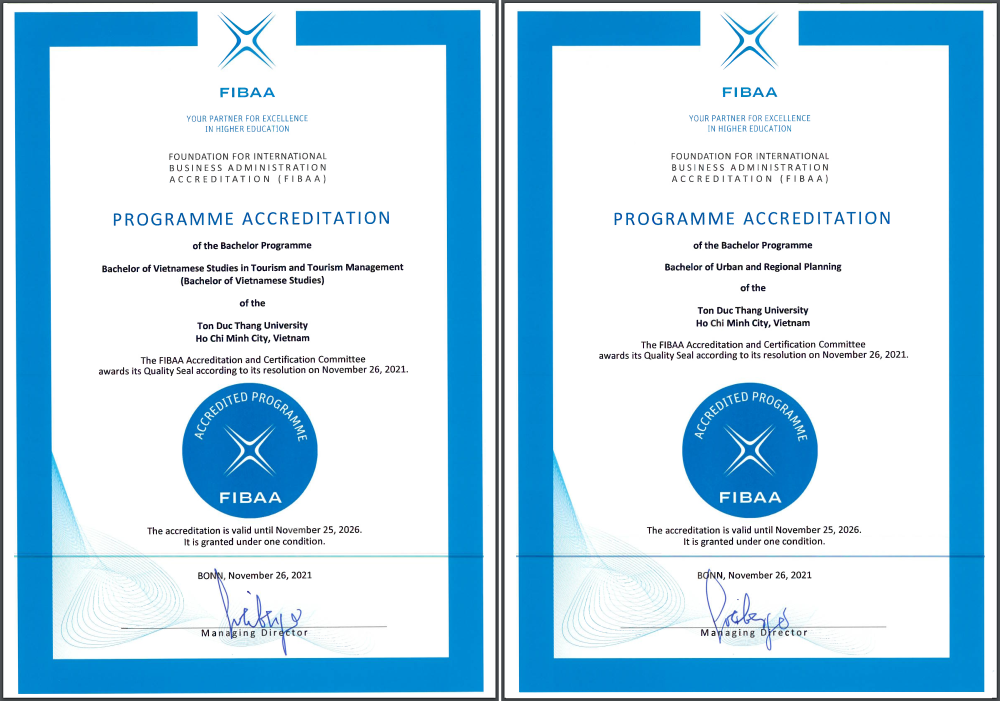 11 programmes meeting the AUN-QA accreditation standards
In July 2018, TDTU was recognized as an associate member of the ASEAN University Network-Quality Assurance (AUN-QA). Until July 2019, TDTU had successfully evaluated 4 undergraduate programs according to AUN-QA standards. The remaining undergraduate programs have completed quality improvement in accordance with this set of standards.
Four curricula certified by AUN-QA for the first time include Electronics and Telecommunications Engineering, Software Engineering, Environmental Science, and Finance-Banking. According to the certification results, these 4 curricula are rated "Adequate as Expected" or "Better than Adequate".
In March 2021, AUN-QA recognized 4 more undergraduate curricula of TDTU including Applied Mathematics, Accounting, Biotechnology and English Language. The accreditation period is 5 years from March 1, 2021 to February 28, 2026.
In November 2021, AUN-QA continued to recognize 3 undergraduate curricula including Architecture, Graphic Design, and Occupational Safety and Health. The accreditation period is 5 years from November 1, 2021 to October 31, 2026.
The set of AUN-QA standards has specific and clear criteria that comprehensively evaluate the curricula through many aspects such as Expected Learning Outcomes, curricula, lecturers, facilities, etc. Having many curricula evaluated and recognized by the prestigious international accreditation organization as AUN-QA is an important step of TDTU in the process of internationalizing and developing the University according to international and regional standards.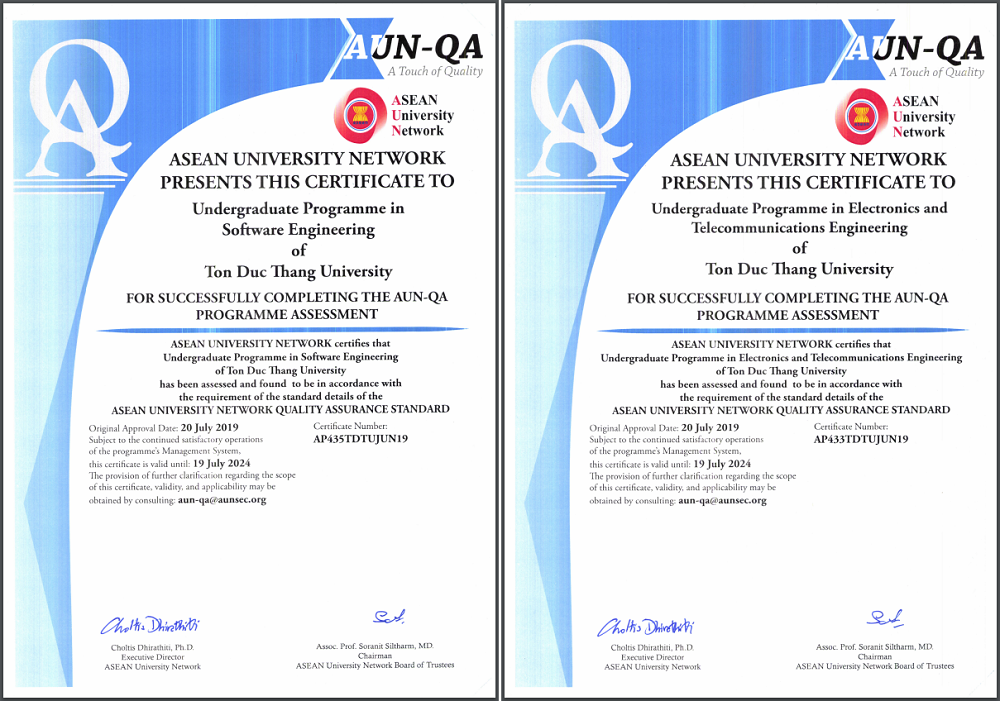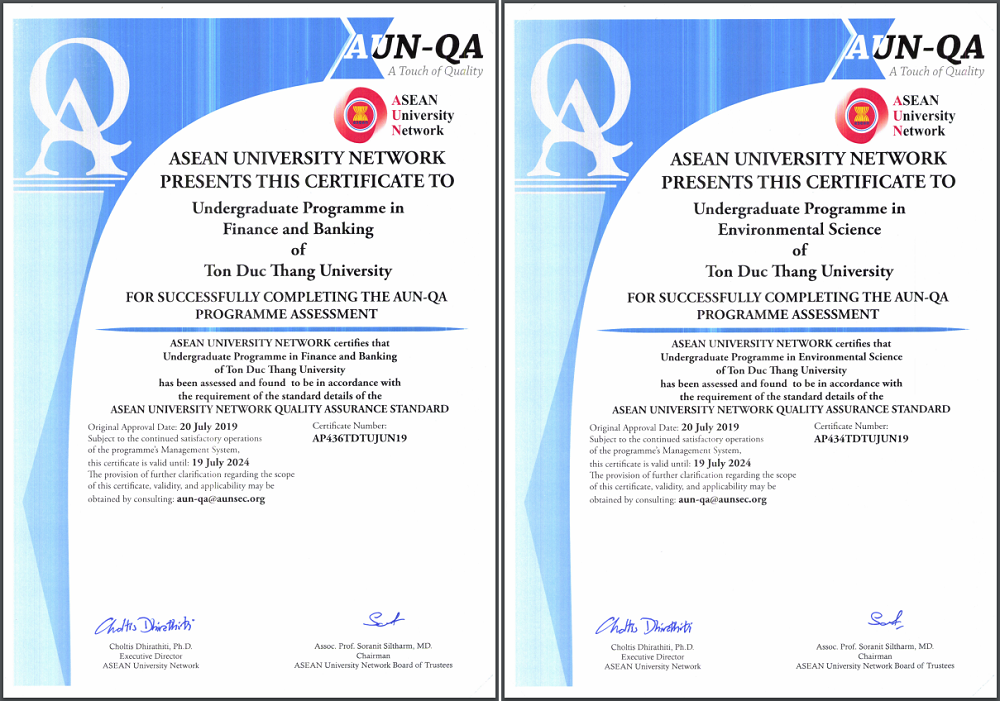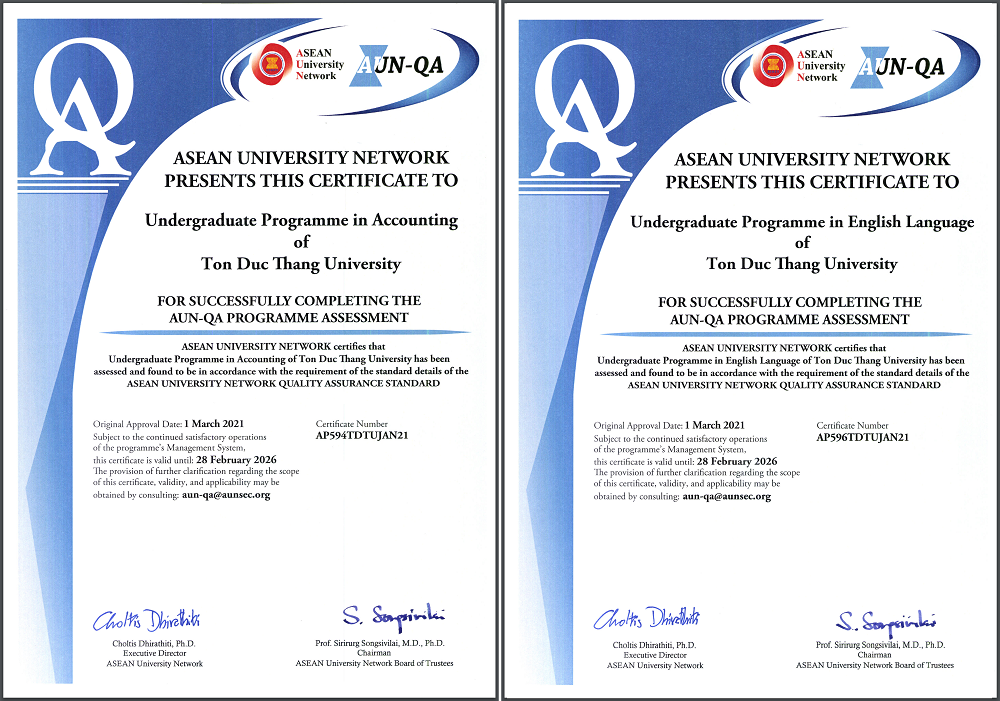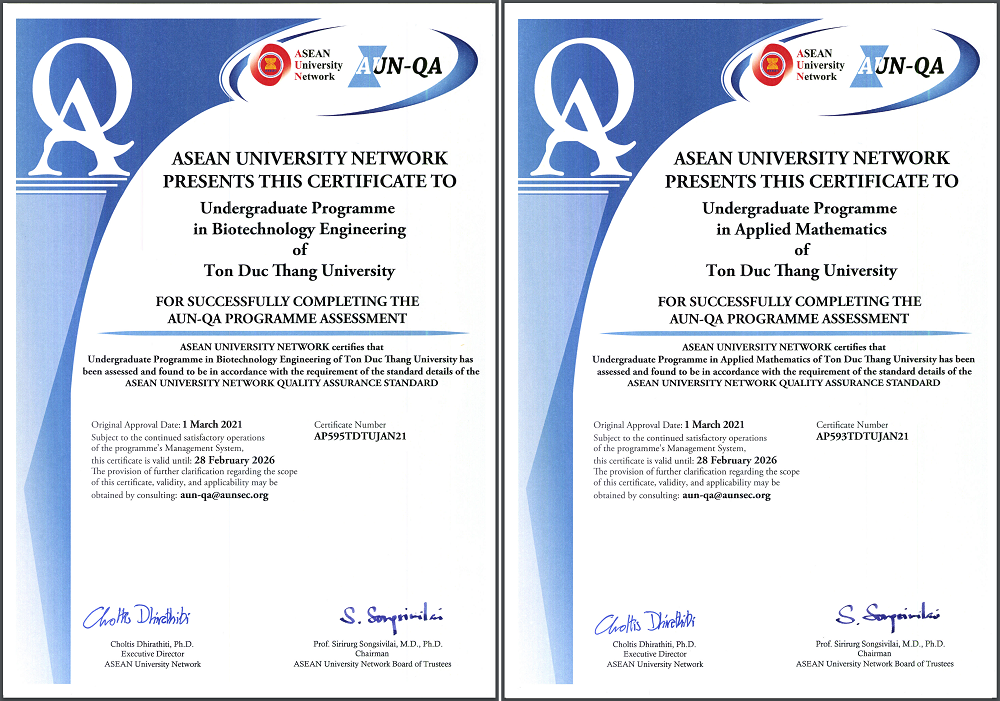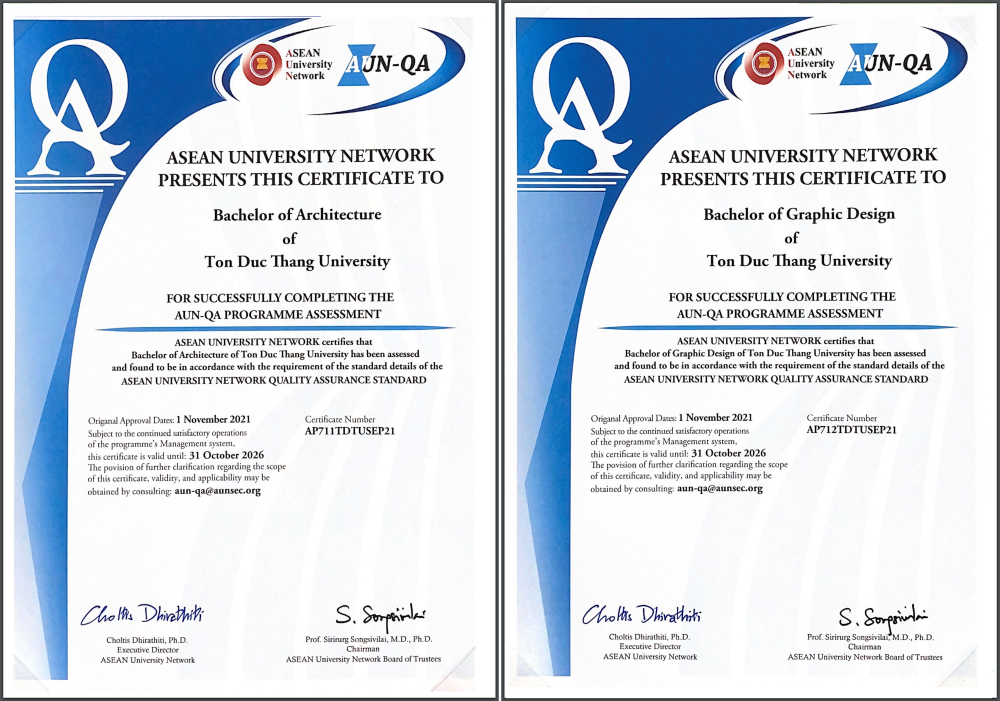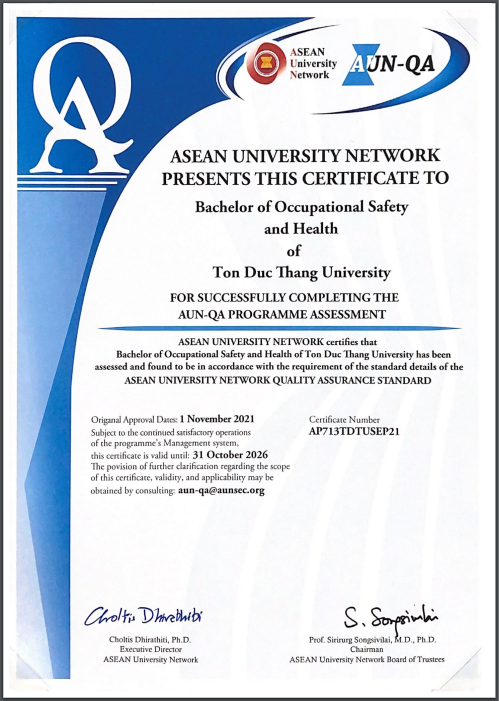 HCÉRES accreditation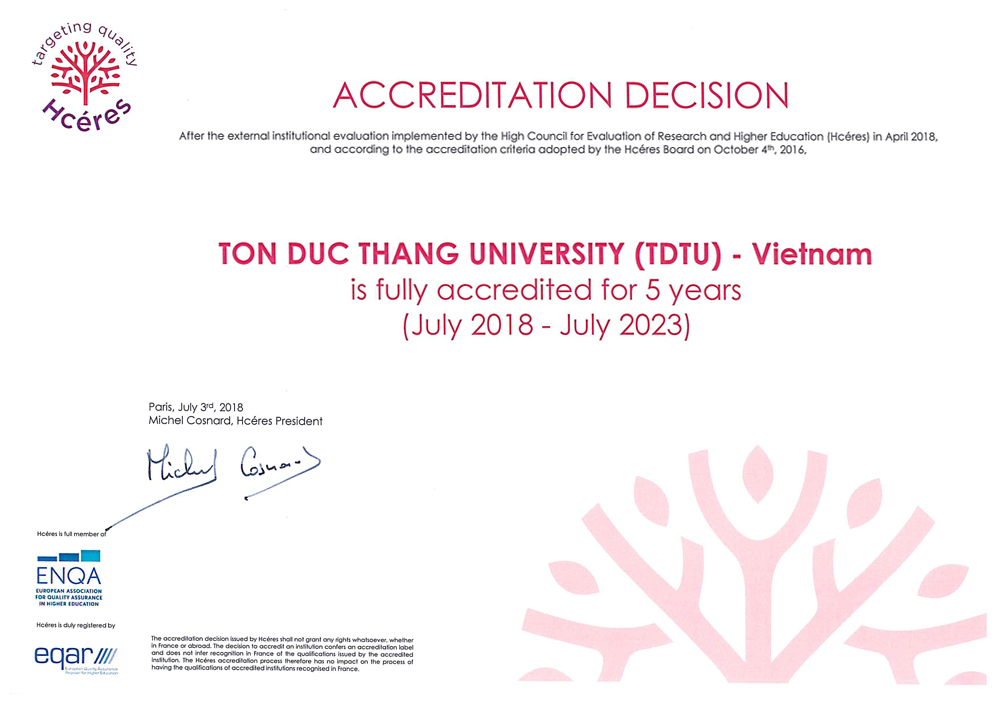 On July 2nd, 2018 The High Council for Evaluation of Research and Higher Education (HCÉRES) decided to recognize that Ton Duc Thang University (TDTU) complies with French and European standards for universities. This accreditation has been granted for a 5-year term, from July 2018 to July 2023.
This is a strict and respected accreditation, granted by a prestigious organization evaluating quality and operations of higher education institutions in the world. This is a result of the perseverant effort of all TDTU staff and students in the last 20 years of building TDTU as a world class higher education institute. This accreditation proves TDTU's determination to become one of the TOP 500 research universities in the world.
ISO 9001:2015 quality system certification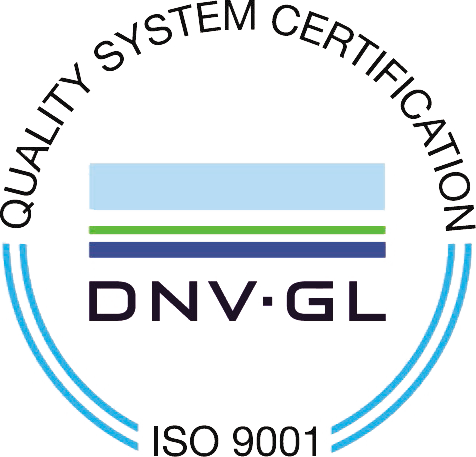 On March 2017, Ton Duc Thang University was bestowed the certificate of ISO 9001:2015 in Quality Management, as a replacement for ISO 9001:2005 version. This is a demonstration of the ability to consistently and efficiently manage and operate training and research processes at the university.
D.N.V (Det Norske Veritas) is an international accredited organization founded in 1864 in Norway, providing services and certification for several industries. 
"Environmentally friendly campus" certificate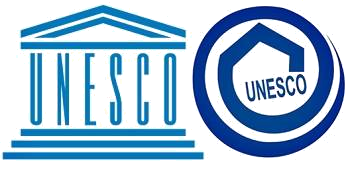 On April 20th, 2016, the Vietnam Union of UNESCO Associations organized an award ceremony to present Ton Duc Thang University with an "Environmentally Friendly Campus" Certificate. The university receives the Certificate in recognition of its establishment and development of a "green" university with clean fresh air in a very crowded and busy Ho Chi Minh City.
Here at TDTU, plants account for 77.75% of the open space and all study zones are designed to overlook the greenery. The campus is surrounded by green grass, a canal to separate the academic areas and sports complex, an experimental garden and a student-made vegetable garden without chemicals. Added to this is an awareness of environmental protection from each member of the university, which has strengthened the development of an eco-friendly environment, and enables the relaxing and efficient learning and researching of students and professors.