Rising Star Award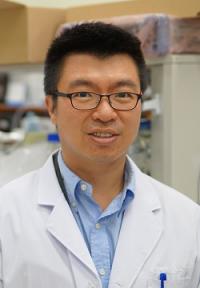 Dr. Anderson Ho Cheung Shum received his B.S.E. degree, summa cum laude, in Chemical Engineering from Princeton University (USA), S.M. and Ph.D. in Applied Physics from Harvard University (USA). He is currently Professor in the Department of Mechanical Engineering and the Biomedical Engineering Programme at The University of Hong Kong.
His research interests include emulsions, biomicrofluidics, biomedical engineering and soft matter. The most significant contribution to the fields of microfluidics and soft matter is to introduce and elucidate possibilities offered by an all-aqueous multiphase system. His work has inspired a new way to achieve biomimetic behaviors in droplet-based materials, promising a new class of programmable carriers for nanomedicine and drugs. 
Professor Shum is a rising star in his field, having published more than 100 ISI articles. His work has been highly influential, with more than 4,000 ISI citations which gained him an H index of 34. He has been recognized both locally and internationally, and received honors and awards, including Fellow of Royal Society of Chemistry (FRSC) 2017, Founding Member of Hong Kong Young Academy of Sciences (2018), IEEE Nanomed New Innovator 2018, Microsystems and Nanoengineering Young Scientists Award 2019,  International Exhibition of Inventions (Geneva, Switzerland) 2018 & 2019. He is currently an associate editor for Biomicrofluidics (American Institute of Physics), an editorial board member for Scientific Reports (Springer Nature) and an editorial advisory board member for Lab-on-a-Chip (RSC).
Speech at the ceremony for TDTU Prize:
President, Chairman and Members of the Selection Committee, Fellow Awardees, Distinguished Guests, Ladies and Gentlemen: 
Thank you for this amazing honor. I feel tremendously honored, grateful, humbled and delighted to be selected as the recipient of the Ton Duc Thang University Scientific Prize – Rising Star Award. If you told me ten years ago, I wouldn't have believed that playing with water in tiny channels would bring so much joy, and an award in Ho Chi Minh City! I hope my example would convince more children and young people to pursue science and engineering, which has been such a blessing to me. Through a scientific career, I get to do what I enjoy doing, support my family, make an impact in the society, and meet many mentors and friends from all over the world! 
This is not my first time to Ho Chi Minh city. I was here about 20 years ago, with my then high-school classmate, now my wife, Helen, with whom I am so fortunate to be able to spend my life. During my Ph.D. studies, she had to explain to her family and friends that her boyfriend was playing with liquid droplets 13,000 kilometers away. Even now, when I am with my students or overseas, she had to take care of the family. Without her dedication and sacrifices, I would not have been able to focus on what I enjoy doing. She is also my source of inspirations and never fails to inspire me from perspectives that I have not thought of.  
My mom and dad are not scientists themselves, but they have always been very open-minded with my wish to pursue a career in science and engineering. They have always trusted me and my passion in scientific discoveries and innovations even though that means I had to spend 10 years away from home and could not be available to them during their most difficult times. It will not be an easy task for me to show the same unfailing understanding, tolerance, encouragement, support and unconditional love to my children, Aiden and Annabelle, who are also here with me today.  
I am also extremely grateful for my wonderful PhD supervisor Prof. David Weitz from Harvard University. He not only introduces me to the treasure troth of scientific research, but is also immensely supportive and inspiring; and always challenges me to do something new and impactful.
My works would not have been possible without my remarkable group of students and postdoctoral researchers, as well as collaborators. I am deeply indebted to them for their hard works, ideas, collaborations that enable the achievements recognized by this Rising Star Award. Please allow me to make an advertisement here: We are always looking for outstanding talents to join our group, and I know there are a lot of you in the audience. Please consider joining us as students and postdocs! 
I would also like to thank my university, The University of Hong Kong, which is not only with glamorous history, but also with great aspirations and a bright future. My senior colleagues, who also nominated me for this award, always went out of the way to support the research endeavors and ambitions of young colleagues, like they did to me. 
Much expectations have been placed on my shoulder with this Rising Star Award, as it only marks the beginning, not the end of my career. We will build on scientific discoveries in microscaled liquid flows and in liquid-liquid interfaces and get inspirations from the nature to develop new technologies and instrumentation for biomedical and clinical applications. And I hope one day you will all see the outcomes of our works making a difference to the world and know you also have played a part in encouraging us to pursue the works. 
Thank you once again, the Ton Duc Thang University, for the privilege of speaking here, representing the Microfluidics & Soft Matter Group at the University of Hong Kong.